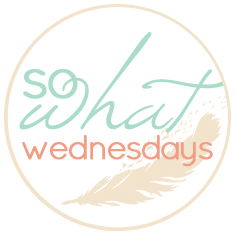 Another link-up? Say it ain't so!
Ok, it's totally so. (Is that an actual sentence?) I am loving blog link-ups lately because 1) I don't have to think of a topic to write about and 2) I love reading everyone else's posts! So fun! For this one, instead of my random thoughts (which should be up tomorrow), this is a post all about what I'm saying "So What" to today!
So what if...
I'm about to completely melt over here. I'm so jealous of my family in KY and OH with their highs in the 70s. It is still high 80s here (and it *maybe* hits 70 at night) and I AM DYING. I need fall! Come to me sweaters, scarves, and bonfires!
My kids have watched WAAAY too much TV today. It's almost the end of summer (school starts in less than 3 weeks!), hubby's away for his job for a few days, and I am trying to get some cleaning done!
My two boys are happily watching a Tinkerbell movie. Gender lines be darned. I'm sick of Transformers, Pirates, Godzilla, and various assorted monsters and gross things. Tinkerbell it is.
The tendency for my nails to chip means I'm giving myself a new manicure every two days. At least I'm using up my massive nail polish collection!
I'm overly proud of myself for FINALLY organizing my huge collection of samples and beauty stuff I've gotten from subs. Some of the stuff had to go into plastic Ziploc bags, so I know what my next few Ipsy bags will be doing! That's right... holding more samples.
The first Ipsy spoiler came out, and it's an either/or item. Either a freakin brand-new URBAN DECAY lipstick (squeeeeee!!!!) or a flippin' lip balm (no squee.). I don't know where Ipsy's head is these days. But I'm really wanting the lipstick. If I get the lip balm, I won't throw a fit. (Well, maybe just a little one. In my head.) I know it's a first-world problem. But I may be crossing my fingers a lot more til I get my bag.
I am waaaay too excited for all my boxes for August. I know that it's not like the companies are going to put any particular effort into them just because it's my birthday month (although they SHOULD), but it feels like I'll be getting birthday gifts all month! Whee!
That's what I'm saying "So What" to today! Hope your day is going great!