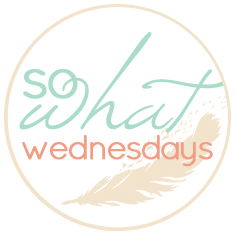 I am lovin' the blog linkups lately. I'm definitely far, far away from starting my own, but it's fun to discover new blogs and check out what's going on in everyone's world! So this week I'm linking up with
Life After I Dew.
Here's what I'm saying SO WHAT to this week!
SO WHAT if...
-Dragon is now potty trained for #1, but refuses to do #2 on the potty. Potty training is a process. And the end is in sight.
-It is getting way too casual around here. Once the kids get home from school, Knight goes and puts on PJ's and Dragon takes his pants off. So classy.
- The crabgrass in our yard is endless. I'm getting good exercise digging it up (ours looked at the traditional weedkillers and laughed... but it cannot escape my Trowel of Doom!).
- I'm so obsessed with Dancing With The Stars. I know it's mainly people I've never heard of (and thank goodness they've finally worked their way through all of the Kardashians!), but I'd rather see someone I don't know do a fantastic job than a famous person crash and burn. And I want to know what kind of boot camp they put the teen Disney stars through... they're always amazing!
- I'm watching Hairspray (for the millionth time) and I still think John Travolta and Christopher Walken make an excellent married couple. They're just adorable. (And I've already done a load of dishes, a load of laundry, cleaned the kitchen and picked up the living room. It's MOVIE TIME!)
- I will never be over my addiction to Dark Chocolate M&M's. Is there anything more perfect?
- I'm going through subscription box withdrawal. I know Ipsy will be here soon and I just got tracking information for Birchbox (although I really hope I don't get them both on the same day
again
).
- And last of all, so what if... I would love a nap right now! 5 more weeks of school, and then the boys and I are going to have some serious sleep-in days!
That's what I'm saying "So What" to this week... how about you?